Hai!!! Kali ni aku nak kongsi cara nak reka poster saintifik. Mula-mula, apa dia poster saintifik ni? Poster yang macam kita lukis zaman sekolah dulu ke? Poster "Belia Benci Dadah", "Cintai Alam Sekitar" tu ke? Bukan, bukan, bukan.
Poster saintifik ni adalah poster yang mengandungi maklumat penyelidikan secara saintifik. Selalunya digunakan oleh pelajar dan golongan profesional untuk berkomunikasi tentang bidang penyelidikan. Bersaiz besar mengikut format yang ditetapkan dan direka menggunakan perisian komputer seperti PowerPoint.
Selalunya, bila ada program seperti persidangan poster, poster-poster ni akan di tayangkan di papan-papan kenyataan. Tuan poster tu tunggulah dekat poster dia. Bila ada orang yang berminat untuk tahu lebih banyak tentang kajian dia, tuan poster tu bolehlah terangkan lebih jelas lagi. Dengan cara ini, penyelidik-penyelidik ni boleh buat collaboration in that research, share information etc.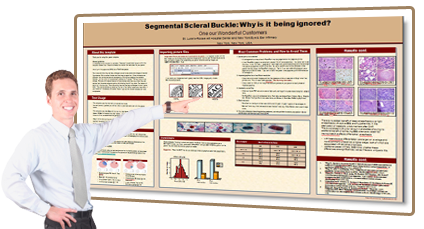 Ini contoh poster saintifik yang aku ambil dari Google Image.
Cara nak design poster tu macam ni :
1) Ready maklumat yang nak diletak dalam poster. Tulis siap-siap dalam Microsoft Word ke apa. Nak letak jadual ke, graf ke, gambar ke, siapkan dulu benda-benda tu.
2) Tentukan nak guna perisian apa yang senang nak edit. Hari tu aku buat guna Powerpoint je. Senang. Macam-macam ada.
3) Pilih nak buat vertical or horizontal poster. Pastikan maklumat dapat disusun dengan baik dan tak berterabur.
4) Tahu format. Saiz poster kena berapa? A1 ke A0? Maklumat macam ni kena tanya pihak penganjur. Sebab saiz poster kena sesuai dengan saiz ruang poster yang disediakan pihak penganjur.
5) Tajuk poster mestilah besar (boleh dibaca dari jarak 1.5 hingga 2 meter) dan menarik. Sebabnya, waktu pembentangan tu nanti akan ada ramai orang lalu lalang. Tak sempat dan susah nak pergi dekat satu-satu poster. Jadi, tajuk tu penting.
6) Lengkap isi-isi dalam poster. Ada abstrak / pengenalan, objektif, bahan dan kaedah, hasil, perbincangan, kesimpulan, rujukan dan penghargaan. Masukkan maklumat yang dah disiapkan tadi (langkah 1).
7) Jangan lupa letak contact information. Maklumat ni perlu sebab kalau waktu presentation tu kita ke tandas atau tak dapat hadir, orang yang berminat mengenai penyelidikan kita tu boleh hubungi kita dari maklumat tu.
8) Pilih warna yang sesuai dan elakkan guna warna yang tertalu terang sebab boleh mengganggu tumpuan pembaca. Seeloknya, 1 warna mesti mendominasi 70% poster tersebut.
9) Elakkan guna Gradient Fill terutamanya dalam peta minda. Maksudnya?
Macam ni. Ada warna yang cerah, ada yang gelap. Ia akan memberi effect secara psikologi. Adakah A lebih penting dari C?

10) Jangan guna lebih dari 2 atau 3 font. Pilih untuk guna serif atau sans serif. Kalau serif, ia lebih mudah dibaca pada printed paper macam buku dan surat khabar. Kalau sans-serif, ia mudah dibaca pada computer screen.
serif: the fonts have curly bits at the top and bottom ends on the letters.
sans-serif: the fonts do not have the curly bits on the letters.
Sebenarnya banyak lagi langkah-langkah yang perlu diambil kira. Semuanya perlukan latihan. Jangan lupa print dulu poster tersebut dalam kertas A4. Tanya pendapat kawan-kawan atau sesiapa sahaja tentang poster tu. Banyak sangat ke tulisan, faham tak penerangan dalam ayat tu, sesuai ke tak letak graf ke gambar ke dekat situ. Check juga kesalahan ejaan, warna, grafik dan sebagainya.